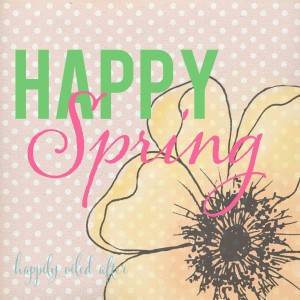 Today is so EXCITING! Today is the first day of Spring. I even celebrated by wearing a dress. . . with heels. . .pigs must be flying somewhere. But I can't help it, it is gorgeous and the promise of flowers, chipping birds, trips to the zoo, relaxing on the beach, music festivals, and I can go on. I won't bore you, I promise.
I am sitting at my desk, in my little cubicle, typing this to you, counting down the minutes until it is time for me to zoom out of here. I am skipping lunch just so I can leave earlier. (I ate something but stayed at my desk. No worries.) This weekend is going to be wonderful. There is a little oily make and take party tonight with my ladies, then tomorrow is date night and we are going to see my dear friend in all of her thespian glory, then Sunday just relaxing. Florida is also beautiful this time of the year because all of the crepe myrtles are blooming. That is the closest thing to snow we get in this fair city.
All I know is you all better go out and enjoy! But before you do, tell me what you love to do as soon as the weather gets warmer?
Happy Oilin'